HARMONISING SOUL AND SPACE
Crafting meaningful connection for Sabam
Sabam, the Belgian Association of Authors, Composers and Publishers, planned to move from their 10,000m², Brussels-based headquarters into a newly purchased, significantly smaller office space—one-fourth the size of their original abode, to be precise. Their request to us? Navigating them through this impactful change.
Sabam's decision to relocate was twofold. For one, they wanted to create an inviting open house for their members. Our task was to design an accommodating hub for meetings, laptop sessions, or simply having a chat over a biscuit and a cappuccino. We decided to earmark specific floors and spaces for this particular purpose.
"Working with PROCOS was smooth sailing.
Any hiccups or tight spots, they jumped right in
and managed to turn things around for the better."
— Pedro Doñoro, Facility Coordinator at Sabam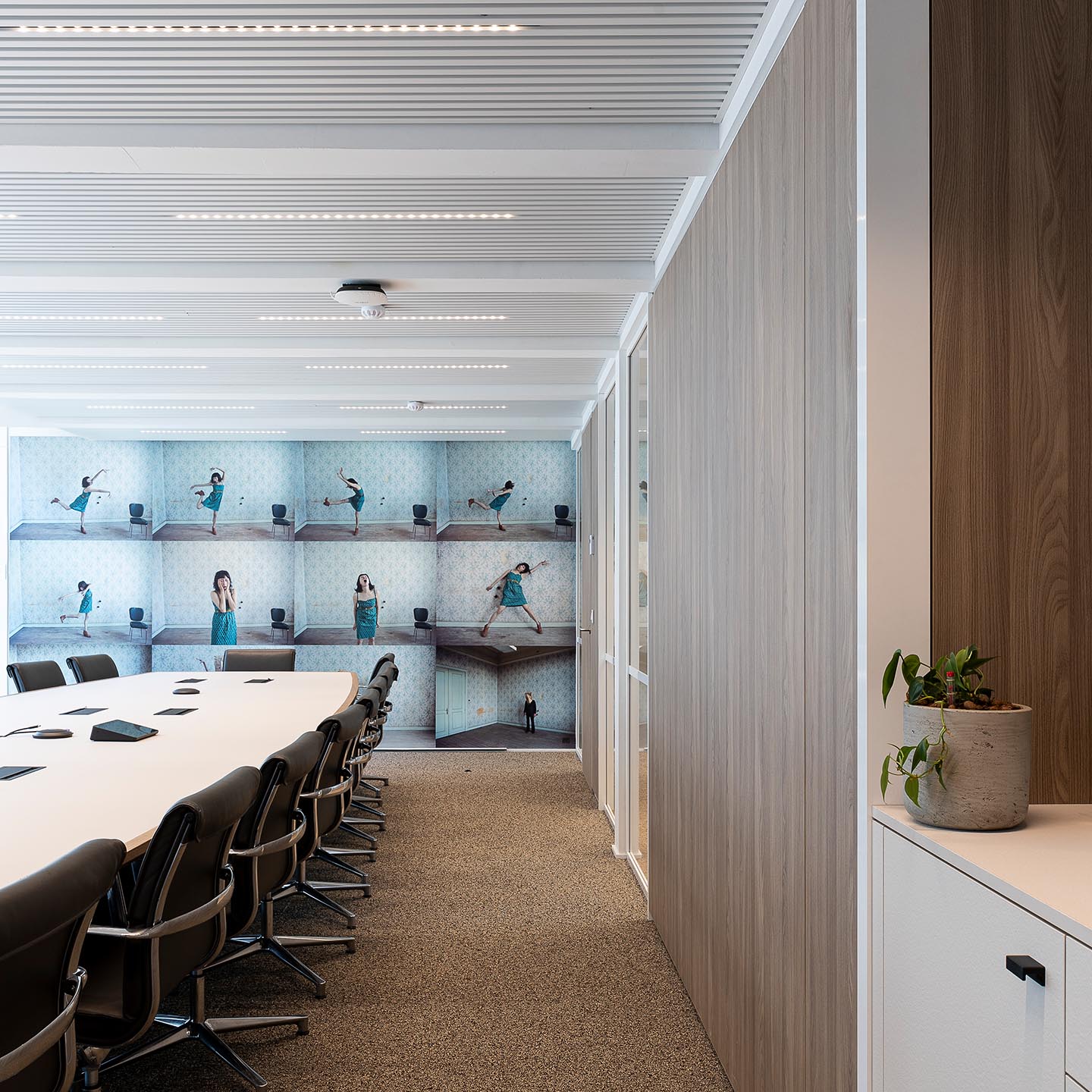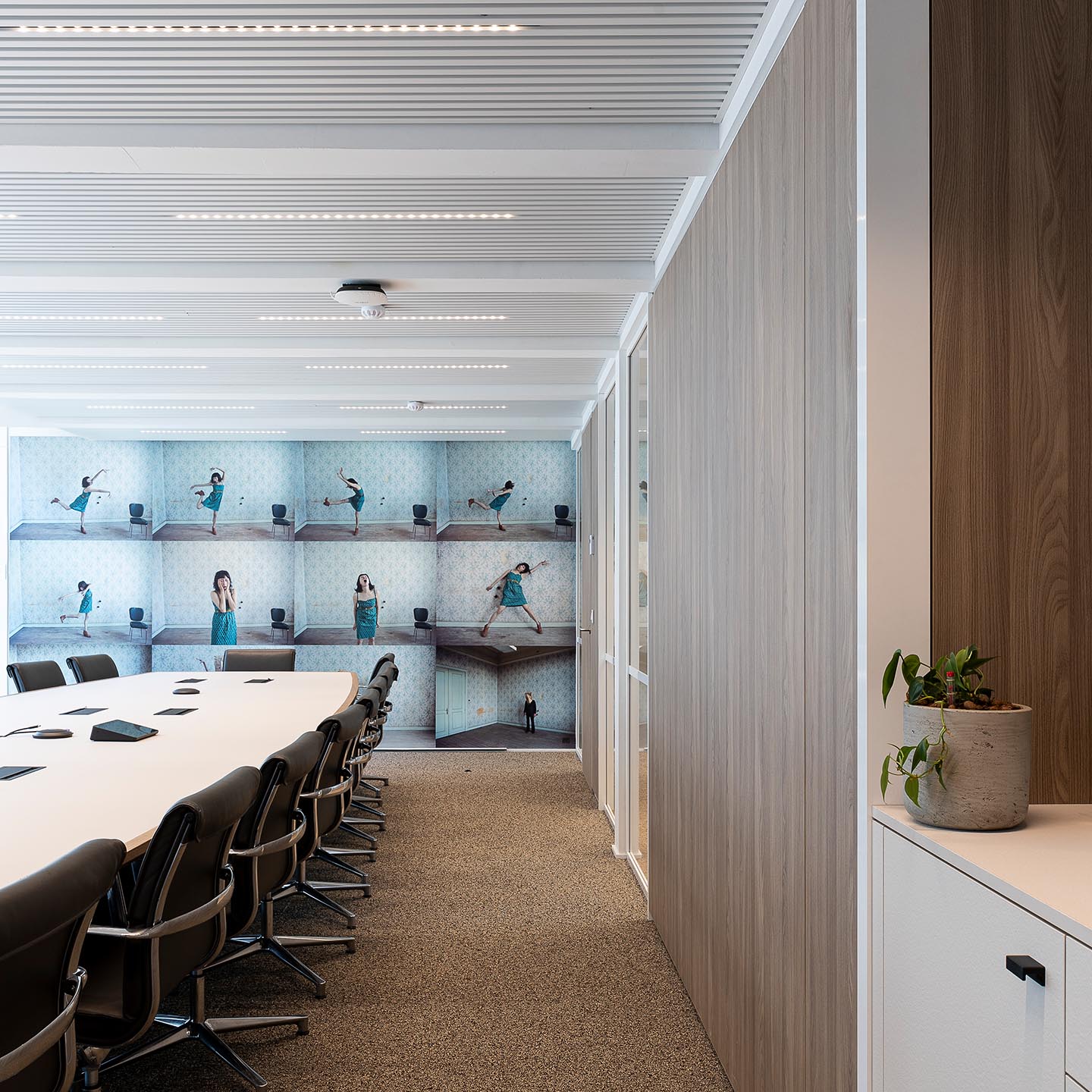 ---
Secondly, they were set on fully embracing hybrid work, by making it an integral part of the work environment and turning their office space into a collaborative meeting place for employees. A place for colleagues to cross paths, swap ideas, and have productive meetings with team members—in tandem with working from home, of course.

In close collaboration with Sabam, we polished this two-pronged vision into what it is today. Individual tasks are tackled at home, while the office has become a vibrant, collaborative hub for meetings with team members or sparring sessions with colleagues from other departments. An invigorating environment, triggering employees to embrace the hybrid working. Here's how we did it.
From interviews to inclusive decisions
We started off by conducting interviews and workshops, engaging a mix of employees from each department. We launched an online survey as well, aimed at gaining a comprehensive understanding of the employees' needs. Using the insights gathered, we formulated concrete proposals—an expansive presentation space, for example.
Our approach revolved around a continuous sequence of presentations, pitching possibilities, and making decisions. Transparency and open communication were at the heart of it all. Involving Sabam in our thought process was a key priority, as it ensured decisions were embraced and supported by all parties involved.
---
---
Fostering a soulful transformation
When it came to the Soul part of this project, our core focus was on change management and ensuring a smooth transition. Employees had been working from home for an extended period of time, presenting us with a substantial challenge in encouraging them to return to the office.
The most significant shift we had to prep them for, however, was Sabam's brand new way of working. Gone were the days of being tethered to fixed spots in designated team areas. Instead, employees would be spread out across the office building, with their workstation changing daily to match their to-do list.
This resulted in the perception that teamwork would no longer be possible. In reality, this couldn't be further from the truth. Effective collaboration goes beyond simply sitting next to each other. If you ask us, the true value of teamwork emerges by intentionally setting up moments of meaningful interaction—a concept actively encouraged by the new office layout.
In other words, it was up to us to show Sabam's employees the ropes and teach them how to use the workspace in a flexible manner, encouraging interaction and synergy. We joined forces with Sabam's communication team and crafted a compelling story, designed to enlighten employees about the many advantages coming their way
Introduction of influencers
We introduced our ideas during virtual get-togethers and workshops with employee reps we cheekily labelled 'influencers.' In small groups, the influencers worked on getting everyone on board with the major changes ahead—from the challenges that come with hybrid working to the question of where to put empty coffee cups at the end of the workday.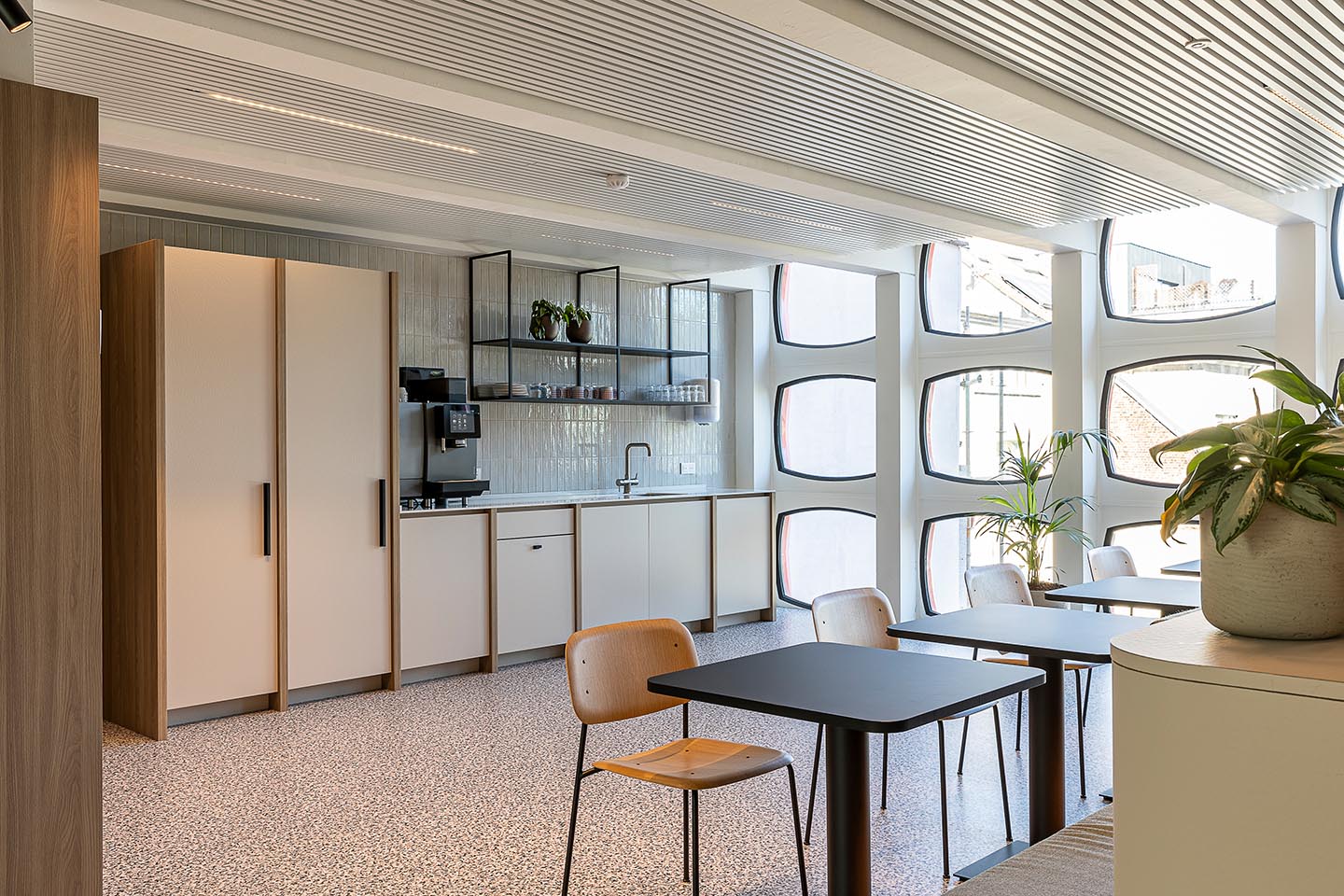 Spaces crafted for collaboration
Naturally, it wasn't just the people who needed time to adjust. In terms of Space, the building needed to be adapted to fit Sabam's new way of working as well. That's why we made sure to design more meeting spaces compared to a standard office setup, creating an environment where employees can work together effectively.
However, we also included enough individual workstations, given employees need to be able to work independently as well. Otherwise put: we curated a diverse array of workspaces, with a particular focus on meaningful collaboration and providing opportunities for easy, impromptu meetings.
On the ground floor, we designed a spacious and versatile presentation area. There's no fixed setup—instead, we went with movable furniture, granting Sabam the flexibility to utilise the space as needed. On the top floor, we crafted an informal meeting room, stunning view of Brussels included. Talk about a work environment that sparks the brain.
Alongside this assortment of meeting possibilities, we fashioned a reception area that's nothing short of impressive. The circular counter is stacked with books and serves as a visually captivating piece of furniture, welcoming visitors to the building and setting the tone for its nine different floors.
Embracing the openness Sabam aimed to convey through their new office layout, we decided to showcase their extensive archive of records and books and incorporate it into the areas accessible to Sabam members. We built large cabinets and filled them with records, complete with a record player—in case anyone's in the mood for a tune.
Back in the day, walking into Sabam meant walking into a traditional office building. Now, it's an entirely different scene—a chic and dynamic setting, brimming with buzz and activity, of people mingling and connecting and Sabam members strolling around. A brand new vibe that paints a much truer picture of what Sabam is all about. In short: mission accomplished.
---
Nele Vangeneugden – Workplace & Change Consultant
Timmy Verkissen – Workplace Consultant & Designer